September 28, 2017
Posted by:

veraticswebmaster

Category:

Press Release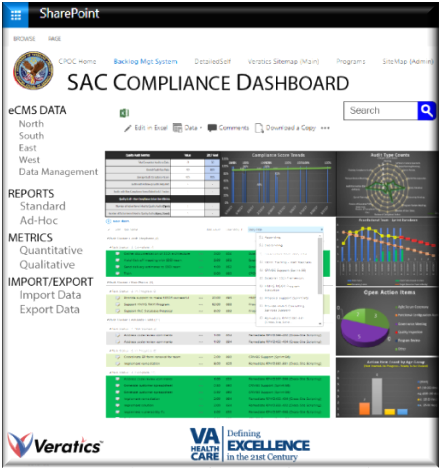 INDIAN HARBOUR BEACH, Fla. – Sept. 28, 2017 – PRLog — Veratics received a 12-month GSA Schedule 70 contract award from the Department of Veterans Affairs Strategic Acquisition Center (SAC). This contract provides ​information analyst support including administrative and technical information technology (IT) services for the purpose consolidating, streamlining, and providing analysis of contracting data in support of the Strategic Acquisition Center (SAC).
Veratics will develop a SharePoint Dashboard Portal, delivering an intelligent and automated data analysis framework to integrate data processed by the SAC from varying sources, including but not limited to Infopath / Sharepoint, eCMS (VA electronic contracting system), Strategy, and other acquisition-related information systems. ​
Anthony Galluscio, President of Veratics, Inc., said "As a rising SDVOSB prime contractor to the VA, Veratics values the opportunity to support the VA's mission to better serve Veterans and their families by ​streamling the acquisition processes that support our Veterans. We value the trust placed in us and are ready to perform. ​We are honored to be selected for this important program. Congratulations Veratics Team!"
About Veratics, Inc.™
Veratics, Inc. is a leader in intelligent healthcare automation and transformation through applied Agile, Scrum, CMMI-compliant Software and Cyber Security Solutions. Veratics operates a Cyber Project Operations Center™ (CPOC™) with well-formed, highly-productive, and capable Agile Software Development teams, tools, and processes. The CPOC provides modern cyber-aware programming services and information assurance to design, build, and implement advanced application technologies to seamlessly exchange data and information securely across cyberspace. Government experience includes cyber security threat identification and remediation, audit, identity access management, and electronic medical record (VistA) integration. Veratics' commercial past-performance includes leading the Agile enterprise adoption and providing software development as a service (SDaaS) for one of the largest integrated healthcare delivery systems in the nation. To learn more, please visit: http://www.veratics.com. ​
Veratics is a leading provider of intelligent enterprise content management systems, spanning shared services solutions to e-commerce systems. Veratics owns and operates GoVets (www.govets.com)​, the nation's largest veteran-owned online store, offering millions of products with 100% free shipping to government agencies, commercial enterprises, and patriotic citizens.  To learn more, please visit: https://www.govets.com or watch the video at http://www.veratics.com/introducing-govets/.