May 30, 2018
Posted by:

veraticswebmaster

Category:

Press Release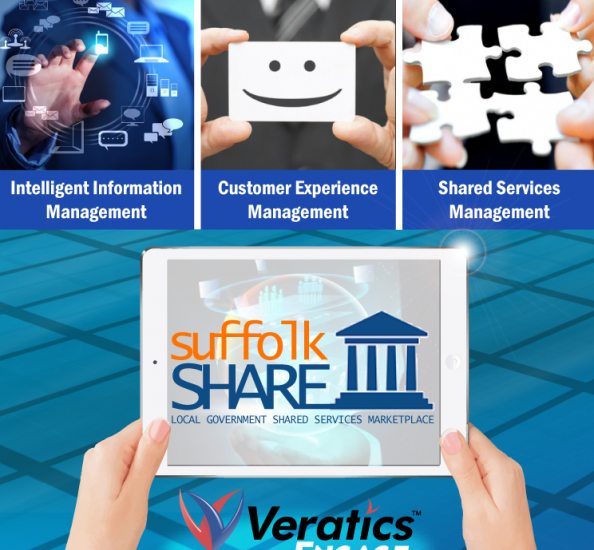 HAUPPAUGE, N.Y. – May 30, 2018 – PRLog — Veratics™ received a GSA 70 contract award to develop SuffolkShare, a shared services marketplace using the ​Veratics ENGAGE™ platform designed to digitally share government resources and connect government staff with projected savings of $37 million dollars over two years. Veratics will configure and deliver the ENGAGE​ platform for SuffolkShare to dramatically increase digital collaboration, improve resource sharing, and deliver significant operations efficiency.
​Anthony Galluscio, President of Veratics, Inc., said, "We are honored to be selected by Suffolk County to support this important initiative. As a New York State Certified Service-Disabled Veteran-Owned Business (NYS SDVOB) with over forty percent veterans, we recognize New York State and Suffolk Co​​unty's commitment to Veterans and we value this opportunity to serve the citizens and government of Suf​folk County. We are dedicated to delivering technology that will improve government operations and save taxpayer dollars. Congratulations to the Veratics team."
About Veratics, Inc.
As a leader in intelligent information management (IIM), Veratics offers ENGAGE™, a platform for innovative engagement that enables rapid delivery of intuitive information management systems. Veratics' revolutionary IIM approach to Enterprise Content Management (ECM) connects people and ideas to content efficiently and seamlessly across the enterprise. Engaging Employees and Customers through fluid content delivery.  
Veratics is a leading provider of intelligent enterprise content management systems, spanning shared services solutions to e-commerce systems. Veratics owns and operates GoVets (www.govets.com)​, the nation's largest veteran-owned online store, offering millions of products with 100% free shipping to government agencies, commercial enterprises, and patriotic citizens.  To learn more, please visit: https://www.govets.com or watch the video at http://www.veratics.com/introducing-govets/.